Browsing articles in "Spey Nation Supporters"
This is Fly is rocking out in upstate this month with a profile of local tyer Pat Cohen here with pictures from official Nation Photog Guru Robin Hill.  Robin get's his own spread on page 110 where once again my hands have cameos but my face must be reserved for radio…
 While your over there, there are 2 articles about swinging that are worth checking out too.
We are just putting the finishing touches on a new partnership for Spey Nation. 
T
ailwater Lodge offers the best accommodations anywhere on the river. Tailwater has 42 luxurious guest rooms and a state-of-the-art conference facility. Dinner is served at the Tailwater restaurant, where rustic atmosphere meets metropolitan flair. Located in the town of Altmar, Tailwater arranges guide service for fishing on the river and nearby Lake Ontario.
Well-equipped guest rooms mix rustic & modern for relaxation and convenience.
Each guest room comes complete with high-speed wireless internet, cable TV and an in-room refrigerator. Join us each morning for a complimentary hot breakfast, served early so you can get out on the river while the fish are biting.
Guests of the Tailwater Lodge enjoy restricted access to one of the best stretches of the river. Our 2,000 feet of reserved river frontage includes the famous Schoolhouse Pool.
Rooms will be available for Spey Nation Weekend For $99/night. 
Tailwater Lodge has also offered to help us with Logistics.  More Tables, and a bunch of other things behind the scenes that should help us run it more smoothly.  We're sure that this will help us get some of those wish list things that were sent to us in our survey this year done.
Look for more announcements soon.
Due to circumstances beyond her control, Malindas Fly Shop will only be open on Friday July 19th and not at all on Saturday.  So stop in and see our friend and be dazzled by the always in stock variety of spey fishing and tying related stuff.
The Official Spey Nation VI T-Shirt
 Back designed by Matthew Richardson.
All Spey Nation Gear Needs To Be Ordered By  6/30/13
And Will Be Available For Pick-Up At Event
Any Gear That Needs to Be Shipped Please
Get Your's Today at
Today I fished the camp water…after breakfast.  I was still the first rod on but I wanted to just keep going until the boats were launched.  I was going to make them pick me up.  It was day 3 of the float and we were settling in to the routine.  I spent many more minutes looking up at the scenery than down on the water and as the snow melted, we woke up to a dusting of snow in the valley and inches on the ridge every morning, I had the sinking feeling that the fishing was going to get tougher as the float went on.  Of course, on my only trip to steelhead country, I would encounter low returns, rising water and dropping temps.
Even in my own waters of the Great Lakes, I knew what that meant for spey fishing.  It was fine though, I was actually out there, doing it, swinging flies in the homeland and that was enough for me.  Even so, the pulls came fast and furious this morning.  Unfortunately they cam from trout, bull trout and squawfish.  To my eye, the squawfish was a cross between a walleye and a creek chub.  I should have taken a picture of the new species to me as I was later to learn it was a native of the area.  In recent years on the Columbia system there has been a bounty put on the fish.  The dams on the Columbia have created an unfair advantage for these predators and they eat a ton of salmon and steelhead smolts.   Jad picked me up about ¾ of a mile below camp and I jumped in next to John for our float.  It started snowing.
That would be a theme for today. By lunch the snow would be falling fast with huge snowflakes reminding me of lake effect flakes back home.  When they landed on your shoulder, the flakes would instantly turn to water soaking everything.    It would constantly ride the rain/snow line all day continually shifting back and forth.   It meant getting down and dirty with the leeches.  Heavy black and blue string leeches on sink tips.  I chose Nick's All You Need in black covered in blue and started plying the depths.  By lunch time we had landed a few trout but still no steelhead.  We warmed up a bit with some soup and sandwiches and headed back out in the snow.  In the afternoon, the snow intensified.  We were swinging the second to last pool of the day, the top pool of a set named double trouble and I got my pull.  My loop was pulled from my hands and my reel spun a few times.  I swept towards the bank and felt good weight.  I was so nervous I don't remember the exact details of the fight, I just remember saying to myself once I saw color, "Don't lose this fish…Don't lose this fish".  Once in the net, I collapsed emotionally.
I had done it.  Staring back at me was a fish that had seen salt water, come over 7 dams during the summer and had met me 30 miles or so up the Grande Ronde.  It was missing it's adipose fin.  A sure sign that this fish was born in the hatchery.  It didn't matter, it was the most beautiful fish I had ever seen on the end of my line.  Jad and I discussed the inevitable.  How great it would have felt to have released this fish back into the wild, as per my ethics on my home waters, and how bad it would be to the limited number of wild fish left to allow these inferior cloned genetics into the gene pool.  The decision was made to dispatch this fish quickly and prepare it for our lunch the following day.  It wasn't exactly how I envisioned what would happen to my first steelhead but it was the right thing to do.
I would soon learn how different our steelhead were to these creatures.  It is all in the taste.  I filled out the steelhead tag slot on my license and  Jad cleaned the fish.  I took the leech off and decided most of my fishing would be done with either the wet or the dry.  I had caught one on a leech, now to try and get one properly.  In the lower part of Double Trouble John hit another, smaller hatchery fish.  It was a triumphant end to a long wet day.
We pulled into camp victorious and settled in to a drying fire, a meal of teriyaki tuna, m ashed potatoes and carrots.  I broke out the bourbon to toast my first steelhead and fell asleep listening to the snow fall gently on the tent.
After a fine night of dining on Pork Loin, mashed cauliflower and carrots and a desert of peach chutney, it was clear that the guys had this down to a science.  Camp rules of no religion or politics observed, we had no shortage of topics to choose from.  We were all friends in no time and the night was one of celebration of nature and new found friendship.
I woke early.  I don't know if it was the fresh air or the jet lag but I was up with the early shift for sure.  Coffee around an early morning campfire may be one of life's simple pleasures I don't have occasion to experience enough.  Especially if the only duty is coffee drinking.  TJ, Robert and Jad were up early as well in preparation of the day.  I just watched the sun start to lighten the rim of the canyon.  The second good thing about waking earlier than you companions is getting first crack of the camp water while they scrambled to get ready for the days float.  In the tailout of the long pool in front of camp, I had a nice tug.  I couldn't get him to come back though before the smell of breakfast called me back to camp.  It as eggs over easy and crab cakes.  After breakfast, we had to hit the boats.  We would cover about 8 miles today.  We had been informed that day 1 and 2 would be the long floats and we would take our time in the latter half of the float.  Lyf, had gone bird hunting and showed back up to camp late, and empty handed.  He road with Robert in the gear raft and caught up to us about lunch time.
Today John and I were to ride in TJ's boat.  TJ seemed to enjoy fishing a different water type than Jad, one it would turn out, I preferred as well.  He liked to fish water that looked like our own home water, the Salmon and I settled into a familiar cast and step.  This was to be a day of numbers but the wrong species.  I was to tangle with many large trout, up to 20 inches but none that we could definably call steelhead.
After a shore lunch of salmon burgers and soup, I had a hot hand with the trout.  In one pool I hooked a nice bull trout.  My first in the lower 48.  I had a ton of experience with these arctic char from my time in Alaska but a true native char to this land was a treat.  It was a handsome fish of about 22 inches.  Definitely related to the brook trout but with a bit more attitude in the face.  As bad as I wanted to eat this fish, we had eaten countless in Alaska, they are protected in Oregon and he was released unharmed to it's native waters.
We passed some high gnarly cliffs today which contained some mountain goats.  I am always amazed at these animals as they seem to prefer the most precarious cliffs.
In the last pool of the day, I was using a skater/dropper combo through a tailout and the dropper, a fall favorite #9 was smashed by a large trout/small steelhead.  This fish went ballistic jumping 3 or four times and almost hitting my backing.  The fish turned upstream creating a large bow in the line and caught it under something.  I got the fly back but the fish was long gone.  It was a bit of excitement for the end of a long day.
We pulled into camp and settled down to a great fire.  It would be a theme for the trip.  Some of the best moments came not from the fishing but from the experience.  It stopped raining long enough to dry out and enjoy a rack of ribs and a desert of cherry chocolate cake.
I just wanted to share some quick photos with more to follow later. I spent the day with the beneficiary of Spey Nation, The Fish Creek Atlantic Salmon Club and I am proud to announce that the proceeds have not been squandered. The great work of these volunteers continues. We put 4-6000 Atlantic Salmon Smolts into a historic watershed. Until the beginnings of the club in 1997, and the first stockings, Atlantic Salmon had not been seen in Fish Creek since the late 1800's. They swim in the creek now with anglers reporting 17-20 inch fish every year. One of the crews found a dead Salmon at 17 inches and will be sent to biologists for analysis. They will be able to determine if that fish made the lake and returned or stayed in the river it's entire life.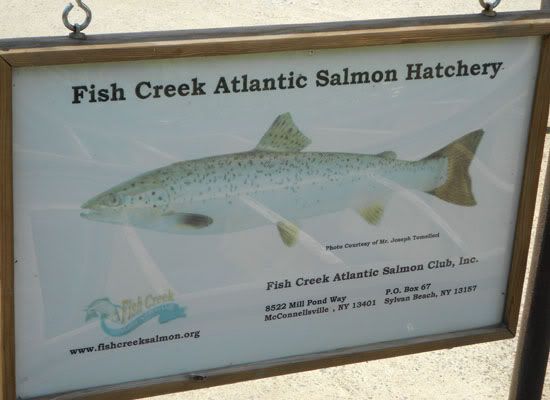 The Hatchery

The hatchery uses no electricity. It's water comes in from the dam spillway and uses gravity to flow through the tanks.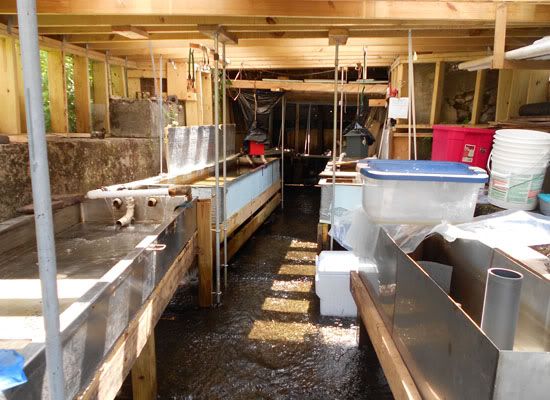 The future King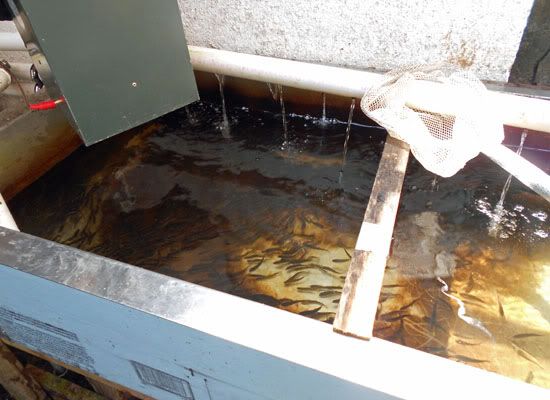 The King has returned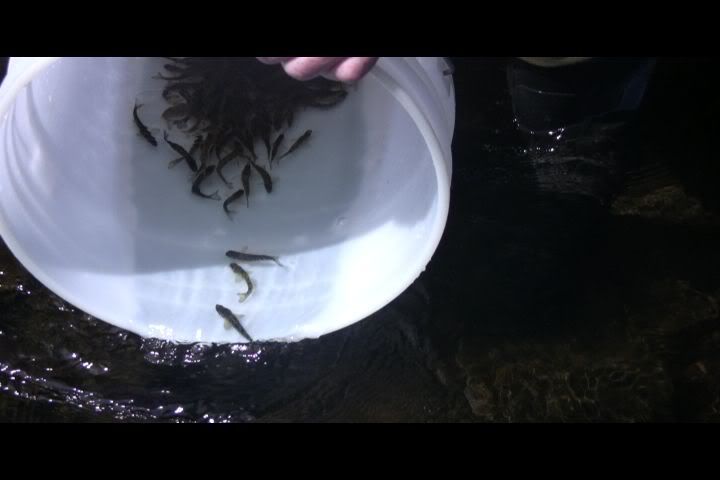 The newest update can be seen here
Spey Nation V
July 14, 2012
Pineville, NY
8:30 AM to 4 PM
15 Spey Rod Manufacturers
9 Spey Line Brands
Over 30 Companies On Display
Raffles!
Rods, Reels, Lines,
Guided Trips On The Salmon.
Adventures to British Columbia and Oregon
Overnights On The Delaware
Free Barbeque!
[/center]Spey Nation offers the unique opportunity for enthusiasts and manufacturers of 2 handed rods to gather in a streamside setting.
The Location is the Pineville Boat Launch on the Salmon River in Pineville, NY.
Spey Nation features a full BBQ sponsored by the Oak Orchard Flyshop, raffles, "On the water" demonstrations, and interaction with some of the biggest names in 2 handed casting from the East and West Coasts. Mixing styles, knowledge, and backgrounds, Great Lakes anglers finally have the opportunity to learn Traditional Spey, Scandinavian, and Skagit techniques from the experts, try specialized equipment on the water and talk with other fishermen in an atmosphere dedicated exclusively to 2-handed casting while enjoying a burger.
Visit Our Website and Blog as we
Set our list of Presenters, Raffle Prizes, and
Instructors for Spey Nation V
Tim Rajeff, Simon Gawesworth, Mike Barrand,
Jad Donaldson Andrew Moy, Rick Kustich,
Topher Browne, Patrick Ross
List Subject To Changes
AppA
Please visit and support our supporters
The Spey Lodge, Frank Swarner III, Paul's Guide Service, The West Branch Angler,Scott, Guideline, CND, CF Airflo,
Wild Water Fly Rods, Orvis, The Spey Company, Hardy, Temple Forks Outfitters, Echo, JP Ross, Buelah, Sage, Thomas And Thomas,
Ross Reels, Castle Arms/Heritage Fly Rods, Hatch Reels, Loop Fly Fishing, DTX Mackenzie, Mad River Dubbing Company,
The Red Shed Fly Shop, Malindas Fly Shop, Isle-Fish Guide Service, Snake River Oufitters, Tight Lines Fly Shop, The Oak Orchard Fly Shop, The Angler's Lodge (Patrick Ross), River Time Guide Service, Cattaraugus Creek Outfitters, Neversink River Fly Fishing Guide Service, Vision Fly Fishing, Albright Fly Fishing, G Loomis, Buff Fishing Clothing, Skagit Master, Tibor, Fishpond, Redington, Umpqua, Rio, Scientific Angler, Winston Fly Rods, Simms, Ross Reels, Maui Jim, Pro-Tube , Mystic Fly Fishing, Galvan Reels, Opportunity Fly Fishing
Just another day, lost a huge steelhead as it cartwield off a water fall.  Had wolves all around me.  And a giant eagle flew down and grabbed a dolly off my line from 3 feet away.  I like traveling in an A Star helicoptor.  Oh btw, Wally is giving us another trip.
Never Coming Back…I feel like Marlon Brando in Apocalypse Now