Browsing articles in "Raffle Prizes"
Phil at Castle Arms sent a 14 foot 9/10 3 piece Spey Rod for us to raffle to you on July 20, 2013. 
The success we have had with our Heritage fly rods has everyone surprised. For 15 years without any advertising except word of mouth from the guides and pro fishermen who first bought them we receive compliments and orders from all over the world for our rods. Our rods are 50% to 75% less expensive then the highly advertised rods, yet cast and fish as well or better. The added cost of a huge advertising program adds nothing to the quality of a rod except $$$$$. Available at selected dealers or from Castle Arms.
See the rest of the Heritage rod and reel line-up here
A Wheatley box filled with hand tied flies
speys, hairwings, married wings, irish shrimp types flies
donated by master fly tier Frank Swarner III.
About a mile from the Pineville Bridge sits the Mid-River Motel & Campground. It has 16 rooms that sleep 3, 4 and 6 people and five park models that will sleep up to 6. 
For Spey Nation 2013, they have offered up $20.00 per person based on double occupancy. Park models at $30.00 per person based on 3.   They also have five campsites available.
The Mid-River Motel and Campground is also donating
A room for two nights that sleeps 4
during Salmon Season to Spey Nation to Raffle Off.
Last seen mumbling something about dreams coming true and buying a drift boat…. 
You'll have your chance at this year's Spey Nation
Up For Grabs At This Year's Spey Nation! 
A Two Handed Spey On The Water Class Tailored To Your Needs for 1 Student
A one on one, 6 hour stream side lesson on the Salmon River New York or the Deerfield River Massachusetts held during seasonal times. Hardy & Greys rods, reels, the day's soft drinks, snacks and misc. provided. Lunch not included. You decide what you need, wanting to learn the basics or expand on your current skills, then this day is for you.
Basic Casting
Learn the casts needed to fish river right and left. Single Spey, Dble Spey , Snap T, D Cast, Wombat and others
Intermediate to Advanced Casting and Fishig
Continue to advance your Spey and Scandi casting abilities. Add the Snake Roll to your current abilities and other variations in casting techniques required to adapt to changing conditions and locations. Understand sink tips, fly tracking, proven presentations and effective drifts to increase your spey fishing success
Walt is a Professional Fly & Spey Fishing Guide, Instructor & Coach Since 1985, Walt has been promoting traditional fly fishing with catch & release for the Salmon River Region New York and the Deerfield River in Western Massachusetts. The leader for Traditional Fly and Spey Fishing serving these areas.for more information: Northeast Fly and Spey Fishing Schools
After a year absence, Temple Fork Outfitters returns to Spey Nation VI with a full line of Spey and Switch Rods.   They also have some great spey sized reels to show you as well.  Come check out the new lines and talk to the rep on July 20, 2013 at Spey Nation VI.  They are also supporting the Nation in a big way offering up a 11 foot 8wt Deer Creek Switch Rod as well as a NEW BVK Super Large Arbor Reel in size IV. 
Two handed rod designers Mike Kinney and Bob Meiser continue to expand the TFO Deer Creek series of fly rods with the introduction of the Deer Creek Switch Rod Series.
Bob Meiser has been in the forefront of popularizing and refining blank designs for the Switch Rod concept of fly rods since the mid 1990s. His expertise with this unique family of rods is well established within the two handed rod community. Bob's original concept has been universally accepted over the past decade and teaming with Mike Kinney in design and application for these rods has now taken the concept to the next higher level. We have used our proprietary Axiom material lay-up process for these blanks. These are extremely light weight, durable, thoughtfully designed fly rods with superb performance … Best defined simply as: "Totally efficient delivery tools."
NEW BVK Super Large Arbor Reels
BVK reels are precision machined from bar stock aluminum. The moss green anodized frames and spools are ported to eliminate excess weight. Equally at home in both fresh and salt waters, the super large arbor design provides faster line pick up and helps the maintenance free drag system work at a more constant pressure that standard arbor reels. Delrin/Stainless stacked discs make the drag silky smooth and the one way clutch bearing makes engagement instant and left to right hand conversion simple. BVK reels are available in moss green only.
Spey Nation Book Give-away! We're starting the giving early this year!  We have secure an excluxive copy of "50 More Places to Fly Fish Before You Die".  I checked…the Salmon River's not in there…in fact New York isn't either…so we'll be able to keep the Salmon River a well guarded un-crowded secret for another season….pfew!
Here are the rules:  Upload your best pictures of fish caught with a 2 handed rod–on the swing…Or your best picture of fishing with a 2 handed rod…we debated it…switches apply unless used with a bobber to our
facebook page
.  Then  go tell your slacker buddy's to "Like" your photo.  The person who uploaded the picture that gets the most "likes" will get this highly coveted book.
Post away and Good Luck!
Deadline is April 1st for photos and Likes!
Today I fished the camp water…after breakfast.  I was still the first rod on but I wanted to just keep going until the boats were launched.  I was going to make them pick me up.  It was day 3 of the float and we were settling in to the routine.  I spent many more minutes looking up at the scenery than down on the water and as the snow melted, we woke up to a dusting of snow in the valley and inches on the ridge every morning, I had the sinking feeling that the fishing was going to get tougher as the float went on.  Of course, on my only trip to steelhead country, I would encounter low returns, rising water and dropping temps.
Even in my own waters of the Great Lakes, I knew what that meant for spey fishing.  It was fine though, I was actually out there, doing it, swinging flies in the homeland and that was enough for me.  Even so, the pulls came fast and furious this morning.  Unfortunately they cam from trout, bull trout and squawfish.  To my eye, the squawfish was a cross between a walleye and a creek chub.  I should have taken a picture of the new species to me as I was later to learn it was a native of the area.  In recent years on the Columbia system there has been a bounty put on the fish.  The dams on the Columbia have created an unfair advantage for these predators and they eat a ton of salmon and steelhead smolts.   Jad picked me up about ¾ of a mile below camp and I jumped in next to John for our float.  It started snowing.
That would be a theme for today. By lunch the snow would be falling fast with huge snowflakes reminding me of lake effect flakes back home.  When they landed on your shoulder, the flakes would instantly turn to water soaking everything.    It would constantly ride the rain/snow line all day continually shifting back and forth.   It meant getting down and dirty with the leeches.  Heavy black and blue string leeches on sink tips.  I chose Nick's All You Need in black covered in blue and started plying the depths.  By lunch time we had landed a few trout but still no steelhead.  We warmed up a bit with some soup and sandwiches and headed back out in the snow.  In the afternoon, the snow intensified.  We were swinging the second to last pool of the day, the top pool of a set named double trouble and I got my pull.  My loop was pulled from my hands and my reel spun a few times.  I swept towards the bank and felt good weight.  I was so nervous I don't remember the exact details of the fight, I just remember saying to myself once I saw color, "Don't lose this fish…Don't lose this fish".  Once in the net, I collapsed emotionally.
I had done it.  Staring back at me was a fish that had seen salt water, come over 7 dams during the summer and had met me 30 miles or so up the Grande Ronde.  It was missing it's adipose fin.  A sure sign that this fish was born in the hatchery.  It didn't matter, it was the most beautiful fish I had ever seen on the end of my line.  Jad and I discussed the inevitable.  How great it would have felt to have released this fish back into the wild, as per my ethics on my home waters, and how bad it would be to the limited number of wild fish left to allow these inferior cloned genetics into the gene pool.  The decision was made to dispatch this fish quickly and prepare it for our lunch the following day.  It wasn't exactly how I envisioned what would happen to my first steelhead but it was the right thing to do.
I would soon learn how different our steelhead were to these creatures.  It is all in the taste.  I filled out the steelhead tag slot on my license and  Jad cleaned the fish.  I took the leech off and decided most of my fishing would be done with either the wet or the dry.  I had caught one on a leech, now to try and get one properly.  In the lower part of Double Trouble John hit another, smaller hatchery fish.  It was a triumphant end to a long wet day.
We pulled into camp victorious and settled in to a drying fire, a meal of teriyaki tuna, m ashed potatoes and carrots.  I broke out the bourbon to toast my first steelhead and fell asleep listening to the snow fall gently on the tent.
After a fine night of dining on Pork Loin, mashed cauliflower and carrots and a desert of peach chutney, it was clear that the guys had this down to a science.  Camp rules of no religion or politics observed, we had no shortage of topics to choose from.  We were all friends in no time and the night was one of celebration of nature and new found friendship.
I woke early.  I don't know if it was the fresh air or the jet lag but I was up with the early shift for sure.  Coffee around an early morning campfire may be one of life's simple pleasures I don't have occasion to experience enough.  Especially if the only duty is coffee drinking.  TJ, Robert and Jad were up early as well in preparation of the day.  I just watched the sun start to lighten the rim of the canyon.  The second good thing about waking earlier than you companions is getting first crack of the camp water while they scrambled to get ready for the days float.  In the tailout of the long pool in front of camp, I had a nice tug.  I couldn't get him to come back though before the smell of breakfast called me back to camp.  It as eggs over easy and crab cakes.  After breakfast, we had to hit the boats.  We would cover about 8 miles today.  We had been informed that day 1 and 2 would be the long floats and we would take our time in the latter half of the float.  Lyf, had gone bird hunting and showed back up to camp late, and empty handed.  He road with Robert in the gear raft and caught up to us about lunch time.
Today John and I were to ride in TJ's boat.  TJ seemed to enjoy fishing a different water type than Jad, one it would turn out, I preferred as well.  He liked to fish water that looked like our own home water, the Salmon and I settled into a familiar cast and step.  This was to be a day of numbers but the wrong species.  I was to tangle with many large trout, up to 20 inches but none that we could definably call steelhead.
After a shore lunch of salmon burgers and soup, I had a hot hand with the trout.  In one pool I hooked a nice bull trout.  My first in the lower 48.  I had a ton of experience with these arctic char from my time in Alaska but a true native char to this land was a treat.  It was a handsome fish of about 22 inches.  Definitely related to the brook trout but with a bit more attitude in the face.  As bad as I wanted to eat this fish, we had eaten countless in Alaska, they are protected in Oregon and he was released unharmed to it's native waters.
We passed some high gnarly cliffs today which contained some mountain goats.  I am always amazed at these animals as they seem to prefer the most precarious cliffs.
In the last pool of the day, I was using a skater/dropper combo through a tailout and the dropper, a fall favorite #9 was smashed by a large trout/small steelhead.  This fish went ballistic jumping 3 or four times and almost hitting my backing.  The fish turned upstream creating a large bow in the line and caught it under something.  I got the fly back but the fish was long gone.  It was a bit of excitement for the end of a long day.
We pulled into camp and settled down to a great fire.  It would be a theme for the trip.  Some of the best moments came not from the fishing but from the experience.  It stopped raining long enough to dry out and enjoy a rack of ribs and a desert of cherry chocolate cake.
Maupin, Or. 10/23/12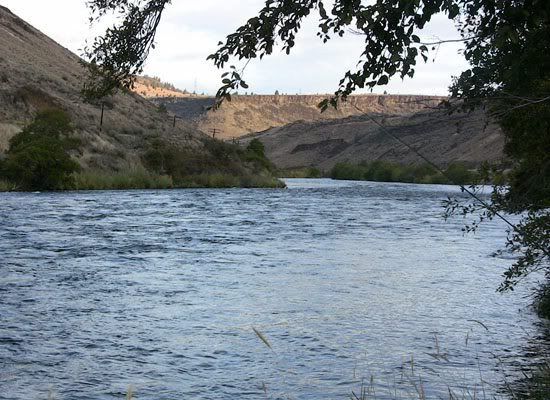 As we geared up in the half-light of the canyon, nobody had selected the first recommended spot by Amy Hazel. To me, it seemed the river was running high. I was told later that the level was about normal for that time of year. But the currents were in the bushes and the wading was a bit on the disturbed side. Not quite dangerous but you had to keep your wits about you. It wasn't as deep as I first though though and as I started my first time through the run, I was pleasantly surprised that I could get out far enough to make the casts needed. My belly was full enough with a breakfast of bagels and oatmeal self-served style from the hotel. I was also fully awake because even though it was early by Oregon standards, coffee and my eastern time zone internal clock had me up at the ungodly hour of 4:30. By the time I was swinging flies, I had been up for a few hours. The canyon would keep the sun off the water until late afternoon and made the water as dark as oil.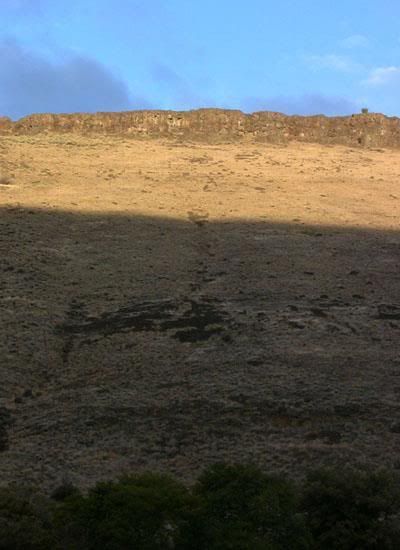 You had to feel your way down the run with your feet. Most of the rocks were covered with a thick layer of moss which cushioned everything. ¾ of the way through the run, as my fly was starting to roll through some submerged boulders, my loop was pulled from my fingers. It was a tug, the very thing I had travelled so far for. I knew it was a tug, it felt alive. There was no love on the end of the line though. No connection to the electricity I craved. I stepped backwards up the run and came through again. Tug—weight on the line, and a full rotation on the reel and I reared back. The rod bucked briefly, doubled over and snapped back to attention. I had missed, or messed up my first solid tug. I was heart-broken, and elated at the same time. I stood there and stared at the black water in dis-belief.
F&%*! I screamed at the hills. At whoever would listen. There would be no conciliation prize, the fish would not return. The magic was gone. Sounds returned to the river. The ever present white noise that is the soundtrack of half my life. Current on rock and would. The hiss of a major sweeper.
I would learn later that the technique for these fish was to sweep the rod to the bank, not just lift up as I did. These summer run steelhead were more careful than our winter fish and had to be coaxed as such. It was no help though, I wasn't going to get a second chance on the Deschutes. I talked to several other floaters who had spent days without a tug. Run counts over Bonneville Dam were down a historic 30%. I had missed my only chance. I secretly wondered if I would return to the east with a heart full of regret. As you can tell, I did.
I saw one more fish porpoise in a long run and I did anticipate the grab as I neared that spot in the pool but it was not to be. We headed back to the Hotel to pack up, grabbed a sandwich at the local deli/grocery store, bought a headlamp, mine apparently didn't make the trip, and settled in for a long drive to our true destination. The tiny hamlet of Minam, Or.