Browsing articles in "Fish Creek Atlantic Salmon Club Minutes"
 

 

Fish Creek Atlantic Salmon Club

 

 

 

 

 

·

Testing of Atlantic salmon from Ed Weed Fish Cultural Facility (Vermont)

 

Kennebec River Biosciences (testing lab) received approval from NYSDEC to test these fish using a two week virology test only. The test results were received March 28 and all four viruses tested for were negative.

 

 

 

 

The club decided last month that a picnic, open to the public, would be a good way to showcase our efforts and successes to local residents. Several locations were mentioned, Forest Park among them. Member Paul Wenham, President of the Friends of Forest Park, has reserved the Woods Pavilion in Forest Park for Saturday May 18. More details to follow.

 

 

 

 

 

Arrangements have been made to pick up the fish from Kevin Kelsey at the Ed Weed Fish Cultural Facility in Vermont. Jim Lawler and Larry Chismark will rent a 24 ft. stake rack truck from Ryder Truck Rental and pick up two oxygen cylinders with regulators from Haun Welding. The Rome Hatchery has offered us the use of two of their fish transport tanks and they will load them for us.

 

The plan is to drive up Friday and stay overnight at the hatchery. Saturday morning the fish will be loaded and brought back for stocking that afternoon. Due to the deep snow still on the Tug Hill, locations near Camden were selected.

 

·

Trestle Road at the fishing access parking lot (W. Branch Fish Creek)

 

·

Mechanic Street (V) Camden behind DPW (W. Branch Fish Creek)

 

·

Quarry Road, left off River Road north of Camden (Mad River)

 

All these sites are very close to the creek, not much snow, good parking for truck.

 

 

 

§

Stocking will be Saturday afternoon April 6. Approximate arrival of stocking truck from Vermont is 2:00 PM at the Trestle Road site.

 

 

 

 

 

 

§

Herb Phillippson's & Mohawk Valley TU – Sat. April 13 at the Herb Phillipson's Store in New Hartford Shopping Center. Volunteers to man the club display and answer questions are Lloyd Northrup, Tom Schneider, Mike Mercoldie, Ted Collins, Paul Miller, and Jim Lawler.

 

 

 

§

Oneida Lake Association meeting is Wednesday May 1. Tony Buffa has requested that someone from the club give a 7 min. talk about the club history, its successes and failures.

 

 

 

 

 

 

 

 

 

 

 

Among the membership renewal forms was a note from Mohawk Valley TU member Bill Pfeiffer that his wife passed away recently. Bill has been an active and well liked member of the Fish Creek Atlantic Salmon Club and our thoughts are with him. A sympathy card was sent on behalf of the club.
February 28, 2013 Meeting:
§Meeting called to order at  7:05
§SECRETARY'S REPORT
January monthly  report read and accepted.
February monthly report read and accepted.
§OLD  BUSINESS
· Eggs were picked up by  Arley Morey from the Casco, ME Hatchery and delivered to our hatchery on Feb.  14, Valentine's Day.The 45,000+ eggs  arrived in very good condition and were placed in the egg  trays.
·Since arrival, the eggs have been doing fine with only minor  losses.The hatchery schedule is working  well and the eggs are checked daily.
§NEW  BUSINESS
·Fish from Kevin Kelsey at Grande Isle  VT.
Kevin offered  25,000 – 50,000 Atlantic salmon fry to our club this year.Due to construction at the Grande Isle  hatchery, the tanks these fish are held in will be removed in early April and  the fish must be picked up before then.We will pay for the 28 day testing, to be done at Kennebec River  Biosciences (Bill Keleher).  Motion made and  seconded.
We will try to  pick up the fish on Friday April 5 and stock them the next day, Saturday
April 6.The truck we rented before with two circular  tanks requires a CDL license to operate.If someone with a CDL license is able to drive to Vermont and pick up the  fish, please contact someone on the Board.
Two guests attended the meeting – John Hadyk (Johnnie's Pier 31  Restaurant) and friend Terry McKay.Both  have heard about the club but wanted to learn more, and both became  members.
§UPCOMING  EVENTS
·Next meeting  Thursday March 28
·Pick up and stock Vermont fish – April 5 & 6
·Herb Phillipson's and Mohawk Valley  TU show, New Hartford – April 13
Oneida Lake  Meeting, late April
·Spey Nation – July  20 Pineville launch site
§ROUNDTABLE
·Paul Miller mentioned that the club held several picnics in past  years to introduce the public to the club in a streamside setting.Since a lot of people know OF us but not too much ABOUT us, another picnic would be a  good idea.The third week in May was  suggested and sites to be considered include:Forest Park at one of the pavilions near the creek; the fishing lodge off  Palmer Road; and the park behind Lynn Scott's trucking company.Member Paul Wenham is President of the  Friends of Forest Park group and will be contacted for scheduling  availability.
 §MEETING ADJOURNED  AT 8:00
Paul Miller has been checking with the  facility in Maine, that supplies our eggs.  Looks like the eggs will be  developed to the point when we can pick them up later this month.  Paul  plans to set up the schedule for volunteers to care for the new Atlantic salmon  eggs, once the eggs arrive at the hatchery.  If you are able to help out,  please let Paul know what day or days you would be available or come to this  monthly meeting.  It is really a nice opportunity to be able to see  the eggs develop into fish and see them grow from week-to-week.
Lets make this our best year  yet.
Regards,
Arley Morey, Club Secretary
Preparations for 2013:  Paul Miller has ordered 45,000 eggs from  the facility in Maine, which has been supplying the Sebago strain of Atlantics  for us.  Paul drove to Maine and  picked up the eggs last year because we had concerns about  the rough handling the eggs had received in previous air shipments.  Transporting the eggs by car is the  better way to get the eggs to our hatchery without damage.  I plan to go to the Maine hatchery to  get the eggs this year as soon as we are told that they are ready.
Hatchery update:  Our hatchery tanks have been lowered a  few inches to assure proper water flow throughout the time that the eggs/fish  are in them.   The pipes and  valves have been reconnected and water is flowing through the tanks, awaiting  the eggs.  I checked the hatchery  after the below zero temps, lately, and everything looked ok. 
Hatchery Work Schedule:  Paul Miller is developing our hatchery  work schedule, for taking care of the eggs once they arrive;  and, we need more workers.  It  is very rewarding to be able to watch the eggs hatch out and then grow and get  stronger, week by week, until they are big enough to be released.  If you are  able to help out, give Paul a call on315-225-8501.
Membership  Renewals:  Tom Schneider is mailing out the membership renewal forms and raffle tickets to prospective  members for 2013.  This is the  beginning of our annual membership drive and money raised is used to support the  work of our club.  Your  participation is appreciated, and if you know of friends or relatives, who might  be interested, please encourage them to join us.  Membership applications are available at  our booth at local sport shows and also on our website also at http://fishcreeksalmon.org/Membership-form-2010.html . 
Local  Sport Shows:  We are planning to set up and man our  booth at these shows:
Oneida Show – Feb. 2, 2013, Saturday, 9AM – 4PM

Herb Phillipson's – Apr. 13, 2013,  Saturday

Mohawk Valley – (date to be  determined)

Oneida Lake Association – (date to be  determined)
Atlantics  in Oneida Lake:  An ice fisherman recently sent a photo  to Paul of what he believes to be an Atlantic salmon, which he caught through  the ice in North Bay this winter.  It appeared to be a healthy adult, 18 inches or longer, probably not  measured before release.   Atlantics over 15 inches in length  are only in season from April 1st thru October 15th.
Our next meeting will be at 7PM Feb. 28th at the Camden  Rod and Gun Clubhouse, members welcome.
I just wanted to share some quick photos with more to follow later. I spent the day with the beneficiary of Spey Nation, The Fish Creek Atlantic Salmon Club and I am proud to announce that the proceeds have not been squandered. The great work of these volunteers continues. We put 4-6000 Atlantic Salmon Smolts into a historic watershed. Until the beginnings of the club in 1997, and the first stockings, Atlantic Salmon had not been seen in Fish Creek since the late 1800's. They swim in the creek now with anglers reporting 17-20 inch fish every year. One of the crews found a dead Salmon at 17 inches and will be sent to biologists for analysis. They will be able to determine if that fish made the lake and returned or stayed in the river it's entire life.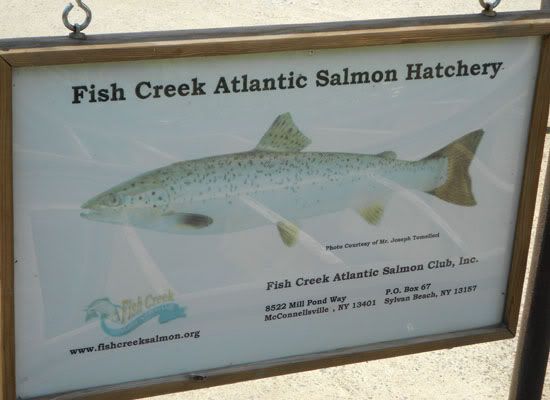 The Hatchery

The hatchery uses no electricity. It's water comes in from the dam spillway and uses gravity to flow through the tanks.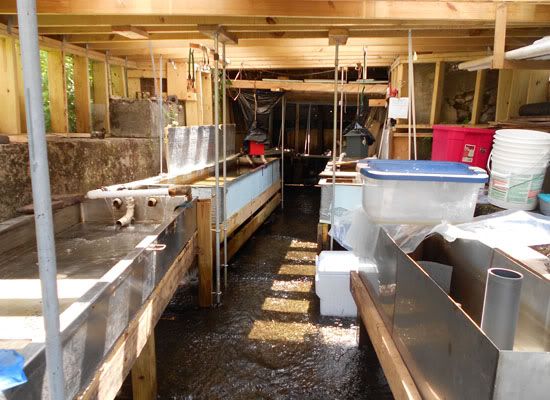 The future King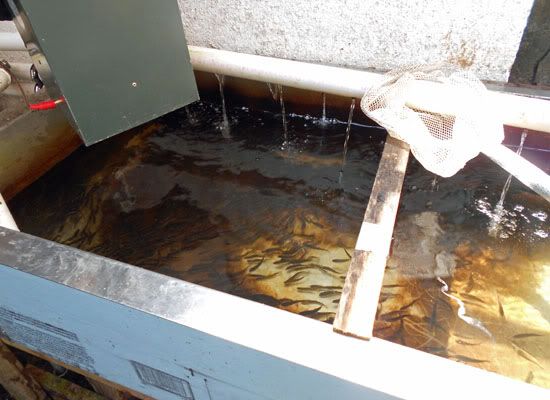 The King has returned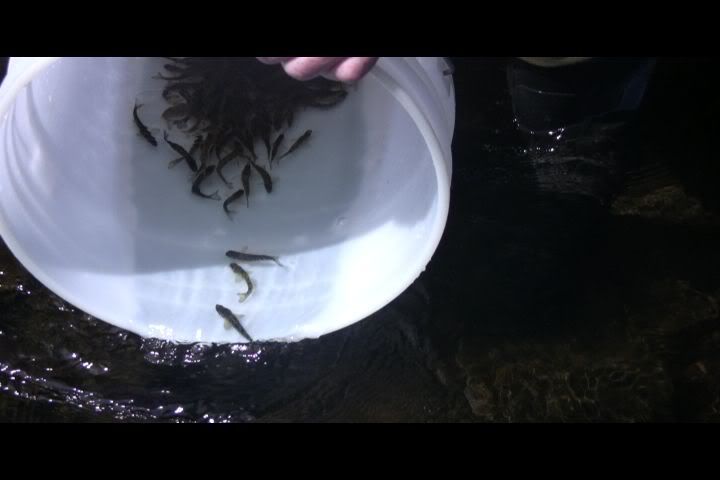 The Fish Creek Atlantic Salmon Club is planning on stocking this year's Atlantic Salmon fry on Saturday, June 30, 2012, if findings of the labrotory tests permit it. Our sample was shipped to the test facility in May, and the 28 day turnaround was selected. Assuming that the fish test ok, we should have the results back before June 30th.
 
We have a good crop of Salmon this year and are looking for help in getting the fish from the hatchery at McConnellsville to the selected stocking sites on Fish Creek. In addition to stocking the fish we will ask each stocking crew to post a couple Salmon identification  posters at each stocking site. If you are available and would like to help, please send an email to the Secretary of the club, Arley Morey <amorey@twcny.rr.com>
Our May 24, 2012 meeting was called to order by our President Jim Lawler at 7:10 PM:
Secretary's Report:  April minutes accepted as read.
Spey Nation July 14, 2012: We understand that the Atlantic Salmon Federation may have a presence at Spey Nation this year.  We discussed the possibility of inviting them to share our shelter, since our mission is similar to their mission.  There were no objections from our group and we feel their presence would be good for Spey Nation and our club as well.  So our invitation is out there. Lets pass the word and help our friends at Spey Nation get a large crowd; it's a great event.  Jim Morris has agreed to bring his shelter and we will have volunteers to help with the setup of the shelter and our booth.  Setup will start around 7 AM.
Salmon ID posters:  Jim Morris brought the finished posters and showed them.  The salmon ID posters, printed on tyvec and laminated will be available to be put up along the Creek when we stock our fish.  Additional posters in bright orange and laminated giving information about our stocking program, the legal size, our recommendation for catch and release and our request for fish parts for testing from any fish taken will be posted along with the ID posters.  Additional copies of both printed on regular paper are prepared for handing out at future shows when we set up our display.  Nice job, Jim.
New tank and feeder:  A blank stainless steel tank has been donated to the club at a time when we would like to have it in service to relieve the crowding in our 3 existing tanks as the fish get bigger.  It is presently at a local fabricator to have a drain installed.  In order to install a new tank, we will need a new feeder.  The motion was made and passed to buy a new solar powered fish feeder similar to the ones that we now use in tank 2 & 3.  Paul agreed to order it.
This year's fish:  Our fish sample has been sent for testing.  We have been offered a new option this year to go with the 14 day turn-around if we need it.  Our concern is the higher than usual temperatures and lack of rain.  We will be watching how things are going at the hatchery over the next 2 weeks in order to determine if it will be better to get the fish in the creek at the higher testing cost or not.  We will email and/or phone as many helpers as possible if we go with the earlier stocking date.
Our April 26, 2012 meeting was called to order by our President Jim Lawler at 7:10 PM:Secretary's Report:  March minutes accepted as sent out.
Paul would like anyone who has paid this year's dues and not received their membership card to notify him so he can send the card, just in case he has missed anyone.
Vermont fry:  Jim Lawler reported that the Vermont hatchery will not have any fish for us this year, but they will keep us in mind for next year.  Their extra fish have all been purchased by the Federal Tennison Lab to replace fish that would have normally been produced by the White River hatchery.  Hurricane Irene had caused damage at the White River Hatchery, destroying this year's supply of fish.Salmon ID poster:  Jim Morris submitted a new sample of an Atlantic salmon identification poster printed on tyvec sheet with permanent ink.  Also available an option would be to laminate the poster in clear plastic.  Another possibility would be a bright orange poster to explain our effort to stock Atlantic salmon, minimum length and catch & release recommendation.    A motion was made and passed to buy 50 of the tyvec posters with 25 of them laminated in plastic for posting along Fish Creek at access sites.  Some more work will be done on the orange poster to get the message clearer.  Copies of the ID poster will be made to be handed out at the Oneida Lake Association Meeting.
This year's fish:  Our fish are doing very well, beginning to eat food and growing.  The transition to eating has gone well this year, with a minimum number of fish lost.  Daily visits to the hatchery by members are logged and dead fish are removed from the tanks and recorded in the log.  The automatic feeders are refilled and maintained daily.  Our older belt type feeder in Tank #1 is in need of updating soon to a new solar powered unit like the other 2 tanks have.  We plan to submit a sample for testing as soon as they grow to 4 cm in length.  Testing will take about 4 weeks after the sample is received by the testing laboratory, then stocking can be scheduled if everything is ok.Respectfully submitted, Arley Morey, Club Secretary
Minutes of the March 27, 2012 meeting of the Fish Creek Atlantic Salmon Club;
Jim Lawler called the meeting to order at 8:15 PM
Gene Carey read the minutes of the February meeting
Jim Morris suggested that he knows someone in Hamilton who can print a sign on Tyvec for the purpose of posting along the stream so people can be made aware of our stocking.  Gene asked if the inks would be water and ultra-violet resistant.  Jim will inquire.
Jim Lawler then talked about the Vermont fish.  We will get whatever is left after the Tunison Labs get there fish.  He will call Kevin in Vermont to see when the fish will be ready, which is expected to be end of May time frame.
Jim Lawler added that our fish need to be 4 centimeters long before they can be tested.  All of our fish have hatched but still have the egg sacks attached.
Spey Nation recently sent us a flyer saying that the entire funds raised by them, after expenses, would go to our club.
Tom Schneider said that the big hatchery sign was done and installed by the hatchery. (See attached photo)  A small sign to be put out by the road is not done yet.
Upcoming Shows:
April 14 – Herb Phillipsons, Utica
April 21 – Mohawk Valley TU, New Hartford Ice Rink
May 2 – Oneida Lake Association, CNS High School
Comments:
 
 
On April 3rd, soon after coming home, I went to the hatchery to see how this year's Atlantic salmon are doing.  I got a candid photo of Dave Miller inspecting the fish in one of the 14 egg hatching baskets. (see attached photo.  It is nice to see this dedication in caring for our fish.)  The eggs are all hatched and the fish are swimming and still living on thr remains of their egg sacks.  This is the stage where our last year's crop was when the hatchery was flooded on April 28, 2011.  It looks like this year's fish are about 3 to 4 weeks ahead of last year's.  It will soon be time to remove the hatching baskets and start feeding them in the tanks.  So, all is well at the hatchery, and if our performance and good luck continues, we should be stocking a lot of fish in June.
Fish Creek Atlantic Salmon Club Comings and Goings
We have had a busy fall working on our hatchery at the Harden dam site in McConnellsville this year.  The modifications made to our hatchery equipment and the building itself should provide a safer environment for this up-coming year's eggs:
Our tank #3 hinged cover was removed and the tank modified to be   like our tanks 1 & 2.
Tank stabalizing systems have been installed on all 3 tanks to   prevent tipping if flooding should happen again; tanks should float up, if   water floods the hatchery.
Insulation has been installed to reduced heat losses from the   hatchery during freezing weather.
Insulation has been installed to all 3 tanks.
Piping to each tank has been installed and supported as   needed.
Hurricane tabs have been installed as required by our building   design.
The roof is in the process of being finished; one more work day   this Friday should finish that; if you are able to help, please respond by   return e-mail.
Respectfully submitted,
Arley Morey, Club Secretary