Browsing articles from "June, 2014"
Sunday June 22, 2014, the day after Spey Nation
the following Spey Casting Instructors instructors will be giving Spey Casting lessons.
Please contact the instructors directly to secure a spot.
Barney Wong Full Day Inquire for Price: sushiyummy@yahoo.com
Walt Geryk : Full Day Inquire for price: walt@neffguide.com
Peter Charles: Full Day Inquire for Price petercharles1@icloud.com
Travis Johnson  Doing a class Friday and Sunday  $200 speycaster@hotmail.com
  Current Distance Spey Cast World Record Holder—Travis Johnson
Travis Johnson began his fly fishing career at the ripe old age of 12. He was that kid who could not learn enough about anything and everything to do with fly fishing.
Travis landed his first Deschutes red-side at age 14 and his first summer steelhead at age 16. His passion for fishing with a fly has taken him all over the country and his wisdom of fishing the western United States surpasses most young men his age.
Having guided the Sandy, Clackamas and the Deschutes Rivers for over 6 years, Travis has learned how to find even the toughest of fish with success, while bringing an infectious energy to the game that will leave you invigorated and inspired.
From a day of chasing wily resident trout to learning in one of his advanced Spey casting classes, your day with this young man will not soon be forgotten.
If you have any questions on the availability of a trip or casting class with Travis Johnson, call The Fly Fishing Shop anytime between 6″00am & 6:00pm at 503-622-4607 or (800) 266-3971. Travis Johnson is both student and instructor in the art of fly casting. He is a member of the prestigious Carron competition Spey Casting team. Last year he placed second at the CLA World Championships held at Blenheim Palace. Winner of the event was Carron team member Gerard Downey, with a magnificent cast of 70.63 meters (231.7 feet). Gerard is now the current World Champion. The team is based out of Invergordon, Ross-shire, Scotland. It has dominated the Spey distance events for the past eleven years and has 12 world Championships to its credit. This team has won more events than all of the rest of the competing teams combined and Carron fly lines hold all of the Spey Casting distance records Most of the 6- members are Scottish. Gerard and Raurri are Irish, and of course Travis resides right here in Oregon, USA. As a matter of fact he grew up in Brightwood, just down the street from The Fly Fishing Shop, where he is currently employed in several capacities, including fishing guide and fly fishing instructor. He practices distance Spey Casting several times a week and regularly achieves casts of 150-200 feet with either hand.   Travis won the 2014 Spey O Rama at San Francinsisco's prestigous Golden Gate Casting Club with a world record breaking 198 foot cast!
Barny Wong
Barny Wong possesses neither the qualifications as a guide nor an insider in the fly fishing industry. Rather, he solves problems outside the box while always honing his skill in communicating the unspoken that sticks. As an ex- innovation scout for the automotive industry, and currently in the field of consciousness, he brings new thought and insight into why, what, and how we do things.  Barny's approach to casting is manage the few so as to produce the largest result. In Tao, this is called Action from Non Action. In this Tao of Casting approach, the ever changing Style in casting can always rely on the immovable Substance (Physics), allowing the caster to self organize and evolve to their highest potential. And with this way, the caster nevers fall into a rut as they harness more with each pass of insight and understanding.
Barny Wong has been spey casting since 2007. He is also featured in both Midcurrent and Fly Fisherman magazine. He combines artistry and technical know how into the art of spey casting.
All levels are welcome for casting classes. His website is www.awholenuthalevel.com containing his rates and contact info.
Walt Geryk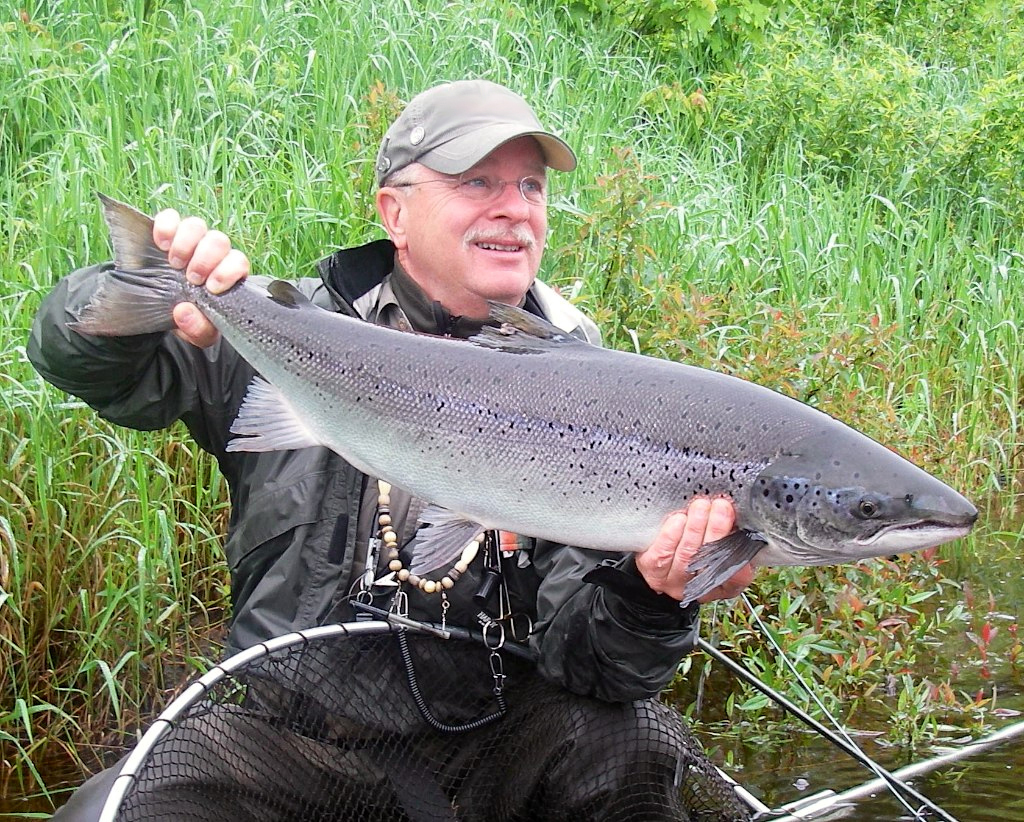 One of the premier two-handed spey casting and fly fishing instructors in North America, Walt specializes in targeting salmon, trout and steelhead in the Northeast and offers basic, intermediate and advanced instructions and schools throughout the Great Lakes,  Canada and the East Coast. Beginning  his fly fishing in 1972, Walt has become the leader for marketing traditional fly and spey fishing serving these areas.                Promoting ethical angling, continuing to bring awareness about the outdoors'  fragile eco-system and teaching the proper skills on how to become better fishermen  are just a few things that will be touched on during your day. Since 1985, Walt has been a professional guide and instructor who advocates traditional, catch & release, fly  fishing for the Salmon River Region of New York, the Deerfield River and  others.
Peter Charles
Fishing has always been a constant passion for me, starting at the age of six when a neighbour took me and his kids to the side of Grey's Creek in Cornwall, Ontario, to fish for anything that swam. We kids used long bamboo poles, wooden floats, a thick, green cord for a fishing line and of course, worms.  The catfish we caught went in the frying pan, except for one of mine that ended up in the fire instead, thanks to an overzealous hookset.  Some would say that my fishing habits haven't changed much since. 
My first fly rod was bought from a department store in 1969 and I've been hooked by the sport ever since.  I've been in the industry side of things since 2006 as a pro staff member and a sales representative.
I have my Certified Casting Instructor qualification from the Federation of Fly Fishers.
I am on the Canadian field staff for G. Loomis / Shimano and pro staff for Airflo Fly Lines, Simms, and The Canadian Tube Fly Company.
No Spey Casting Experience Required!
We welcome the curious, the beginner, the expert alike!
I was reminded recently as to WHY WE DO SPEY NATION.  In fact I was taken by surprise by a conversation that made me step back and say, what is it that we are trying to accomplish?  And by me saying "We", maybe I mean "I".  I can only speak for myself.  I urge everyone to write in why they volunteer or just attend Spey Nation in the comments section below.
For me, I do it because I want our fishery to become a better place for everybody. People who go to Spey Nation talk about concepts like streamside etiquette, conservation, returning Atlantic Salmon to historical watersheds, and angler rotation…and we share our knowledge to everyone who listens on this special day.   And what's not to love about that?  It's why I speak to the manufacturers reps all winter and make sure that they are in attendance.  It's why I talk to everyone who says "Pulaski is the worst place in the world to go fishing," and tell them not to give up on us.  It's getting better every day.
It's a chance to participate in a day that doesn't have the distraction of fishing staring you in the face and you aren't watching the clock as the sun is setting on the day you sat at the office and dreamed about for 2 weeks.  It's a day when we, who love the fishery, have a chance to give something back, take the time to acknowledge where we came from and share the love with others.   I welcome all who love Salmon and Steelhead fishing, no matter how they choose to do so currently, to come and learn from area and national experts how to catch them with spey rods with no prejudice beyond some good natured ribbing to the boys in the LOTAC booth.   If we just go and preach to the choir, then what's the point?  And by giving something back, I don't just mean the raffle money that funds the Atlantic Salmon Club, I mean all the knowledge that we have to share about the sport we love so much.  I think back to the first Spey Nation when a family of curious onlookers recieved a burger, an impromptu lesson about spey casting, and went home with 2 rods from the raffles.  They come every year and they have become passionate advocates for the sport of swinging flies.  I think back to 2008 when you would maybe see one or two spey rods on the river a trip, and the Spey section of www.salmoncrazy.com had about 15 people who wanted to put on a spey clave, and now it seems there is one in every pool and though we have our moments, Spey Nation should be a time when we show the fishery that we aren't the elitists everybody may think we are.
We invite everyone to cut down the  learning curve with 3 days of "What's it all about".
So this is what we have lined up for you this year.
Friday night, come to the Tailwater Lodge for a free primer!  A customized version of the Fly Fishing Film Tour!  You've never seen it like this!  The lineup will be all the best films about Salmon, Steelhead, and Spey fishing!  Saturday, come to the boat launch in Pineville, NY to learn about Spey Fishing, eat some free food, and meet new people who love the river and want to learn more about all the good things that come with 2 handed fishing.  You just might win something amazing that will change your life!  .  And finally Sunday, come fish Douglaston Salmon Run….For Free!
We urge all you who have received this and know what a joy it is to just fish with 2 handers to share the love!  Send this on to your fishing partners who may fish the river differently and personally invite them to our little show.  The more the merrier!
So if you like what you have heard, share this with your buddies, who may fish the river differently and invite them up for a great weekend.  Next year if you look over your shoulder at a group of people watching you cast, invite them up.  It's our chance to bring more people into the fold.  Share this on your facebook page, twitter account and blog and get involved.
Most importantly, I work on Spey Nation for one reason:  I love steelhead rivers, and this one is mine.  I want it to be the best one it can be.  We've come along way, this river and us.  Let's keep it up!
Want to win a Meiser 2 handed Fly Rod with the Spey Nation 2014 Label?  Well we got one for you!
S2H11957C-5
5 pc 11'9″ 5/6/7 wt Highlander Classic
Uniform progressive action with a fast speed of recovery
Grain window: 425 to 650
Scandi heads: 425 to 475 grains <> 29/31 feet in length
Skagit heads: 450 to 525n grains <> 21/23 feet in length
Suitable for all game fish from 5 to 15+ pounds
Case and sock.
Signed:  "Spey Nation 2014"
.
The Highlander Classics are the original R. B. Meiser series of two
handed rods, and are the benchmark design tapers that both the MKS and
Highlander S Series tapers are based from.
Over the past 10 years our Classic Highlanders have developed a strong following with anglers'
world wide. They are especially appreciated by those two handed anglers that
will wish to achieve effortless long distance, ascending deliveries utilizing
classic Spey lines and present grease line swing.
They will do equally
as well with both Skagit and Scandi shooting head line systems by economizing
the stroke and sourcing power from the lower hand.
These are extremely
authoritive two handed rods, yet when put to work they offer the caster a
sensual, uniform power and flex that will carry nicely into the cork when under
full line load. Speed of recovery is quick and power transfer is immediately
responsive to minimal caster effort.
Our new material schedules and
improved bi-directional Helical scrims have allowed us to decrease the overall
weight-in-hand of the new Highlander blanks by allowing the use of smaller
diameter tubes and flatter tapers. These blank adjustments have not changed
their acclaimed benchmark flex and power, but their lighter tubes have increased
overall fishing and casting performance.
Back when Spey Nation was an idea, in fact I don't think we had come up with the name yet, I received a phone call from Peck, ID.  The voice on the other line asked if we could use a donation to help support our clave.  Of course we accepted and a short time later I recieved a package in the mail, which we promptly gave away at our first gathering.  Since 2008, Poppy has come through every year outfitting one of use with a full outfit.  This year, Poppy has become the exclusive dealer for Gaelforce Lines   So, since he has something to talk about and promote, he's coming out this year to join our festivities.  We welcome our long time supporter and hope he likes what he sees.  I know many of you have spoken to him over the years and were most likely some of the inspiration for him to decide to make the long trip.
In case you missed the video,
Poppy is also donating a
Abel Spey reel
Donated By The Red Shed Fly Shop Peck, ID
———————————————————————————————————
54′ Gealforce line
Donated By The Red Shed Fly Shop Peck, ID